The youth of Pakistan has always been interested in learning what our Country is doing to further our growth. A practical illustration of one of the Government of Pakistan's bright endeavors to improve the skill set of its youth is the National Freelance Training Program. Let's explore the blog post to learn what NFTP is, which skills are offered, the eligibility criteria to enroll, certificate details, the registration fee, and why you should enroll.
What is NFTP (National Freelance Training Program)?
National Freelance Training Program is a one-of-a-kind initiative of the Ministry of Information Technology and Telecommunications (MoIT) with the sole motivation of equipping the youth of Pakistan by aiding them to learn to earn by working online via freelancing. The program was initially initiated back in 2020 and is executed by Punjab Information Technology Board across 18 cities of Pakistan arranging comprehensive training sessions by highly experienced and qualified trainers. The knowledgeable instructors chosen are driven by a zeal to impart their knowledge to Pakistan's future leaders. This program is an excellent step toward encouraging gender balance and economic sustainability.
NFTP Insights:
With the changing world dynamics where homes are turning into offices because of the widespread use of the Hybrid working model across the globe, the Ministry of Information Technology and Telecommunications felt the need to provide a platform for learning to the talented youth of Pakistan, promoting Freelance eco-system in the country. Freelancing will not only speak for the entrepreneurial mindset among the child but will also foster women's empowerment and bring about gender balance in the nation. This program is all set to urge the youth to unleash their hidden potential and help the country seek economic sustainability.
Partner Institutes:
The Ministry of Information Technology and Telecommunications is breaking barriers to achieve its mission of promoting freelance training across all provinces of Pakistan. In this connection, it has set up 20 centers in 18 cities in Pakistan altogether under the banner of the National Freelance Training Program (NFTP). It has managed to train a number of 21,000+ promising young freelancers who are earning a decent living through this remarkable training program so far.
Centers in Sindh
Karachi - NED University of Engineering & Technology
Jamshoro - Mehran UET Khairpur - Shah Abdul Latif University
Sukkur - IBA Sukkur
Nawabshah - QUEST Nawabshah
Khairpur - Shah Abdul Latif University
Centers in Punjab
Faisalabad - National Textile University
Lahore - University of Education
Multan - University of Education
Rawalpindi - PMAS-Arid Agriculture University Rawalpindi
Bahawalpur - The Islamia University
Centers in Balochistan
Khuzdar - Balochistan University of Engineering and Technology, Khuzdar
Lasbela - Lasbela University of Agriculture, Water and Marine Sciences
Quetta - University of Balochistan
Turbat - Balochistan University of Engineering and Technology, Turbat
Centers in KPK
Peshawar - Institute of Management Sciences (IMSciences), Peshawar
Mardan - University of Engineering & Technology Mardan
Malakand - University of Malakand
Center in Islamabad
Islamabad - International Islamic University
Center in Azad Jammu & Kashmir
Muzaffarabad - University of Azad Jammu & Kashmir
Center in Gilgit-Baltistan
Gilgit - Karakorum International University
What Is The Eligibility Criteria For NFTP?
There is a well-defined eligibility criterion for the youth to enroll in this constructive program. The student must have a valid CNIC to be considered eligible. The permitted age bracket of the candidate must lie between 18 to 40 years, and the candidate must have a minimum of 14 years of education to be considered eligible for NFTP. The students who are enrolled in NFTP's partnered institution and hold a valid university ID card are also eligible to apply for this training program.
A nominal registration fee will be charged, which the enrolled student has to pay in the stated bank. And there is a strict rule that allows students to enroll in one particular course at a time with NFTP. The registration process is conducted quarterly around the year. This allows the students to enroll in other desired courses after successfully completing the first course opted for.
Training Courses offered at NFTP: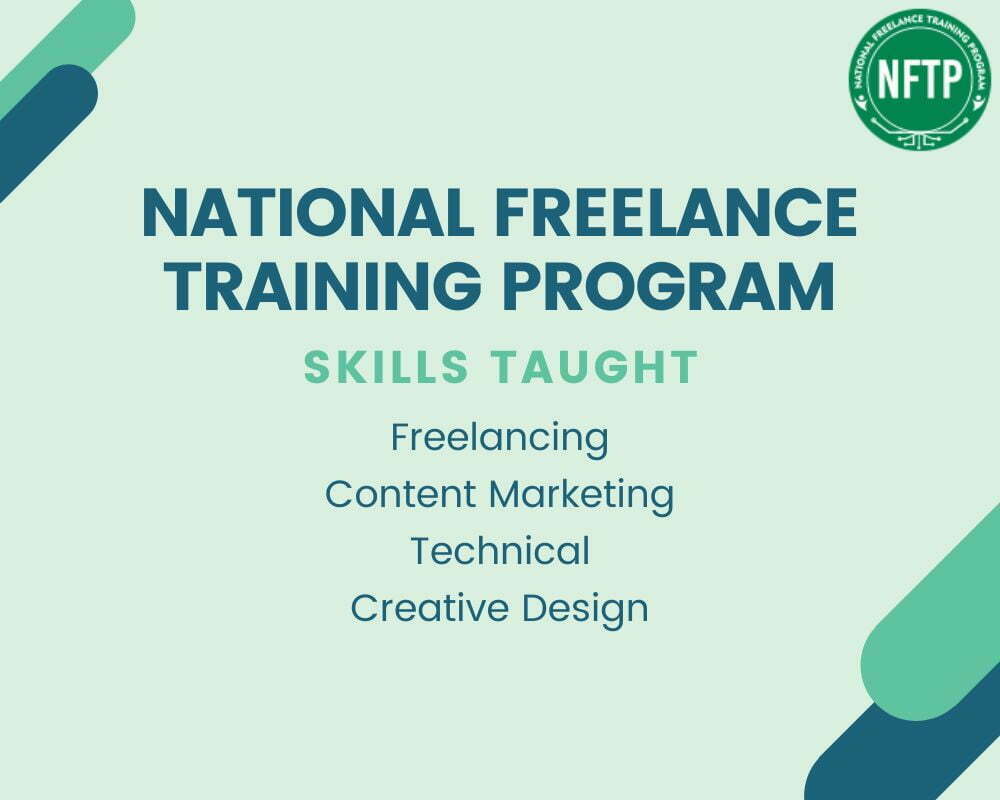 The modern training courses of NFTP are prudently designed to keep the global demands of freelance work in view. NFTP's course is broadly categorized into three chunks namely Technical, Content Marketing, and Creative Design. Freelancing is taught as a mandatory subject in all three courses as it is the technique that converts skill into income. Let's dig into the details without further ado:
1. Technical:
Technical Course majorly focuses on developing the skill set of Web development. Along with web development, students are also taught about the basics of Programming Languages. Developing databases and setting the theme of websites through WordPress are also included in this vigorous course.
Since in this era where most purchases are made through online stores, learning about website development will give a considerable edge to students to earn their bread and butter by selling their carefully constructed websites to clients.
2. Content Marketing & Advertizing:
As the name of this course suggests, here, the students are trained about the techniques required for creating engaging content for their audience over the internet. The SEO techniques which help in better ranking at Google and help in landing more audience on your published article are also part and parcel of this innovative course.
Enrolling in this course is an excellent opportunity for those learners who are good at content writing and passionate about inspiring the world through the power of their words in general and knowledge in particular.
3. Creative Design:
Under this course, instructors will teach graphic design. To make an impactful presence over the internet, brands need properly designed logos and slogans to be remembered nowadays. And this has opened huge avenues for freelancers to provide services like logo designing and building corporate identity kits. And NFTP is proudly training the youth of Pakistan to prove their talent as remarkable graphic designers through this course.
4. Freelancing:
Freelancing is an exclusive working method that allows individuals to work independently. Freelancing fulfills the dream of individuals to become their own bosses by being self-employed. Nowadays, we are witnessing an increasing trend in the number of freelancers around the globe due to the flexibility it imparts to people. As per a report published by Upwork, 59 million Americans freelanced in the year 2021.
To emerge as a freelancer, all you have to do is to make an account on freelancing platforms like Upwork, Fiverr, Freelancers, Toptal, Facebook, Linkedin, People per hour, etc. set your skill set, quote your price, and start the fun ride of working freely. And NFTP is proving as a helping hand to youngsters to master how to market their skills rightly.
Is NFTP Free?
All the domains offered at NFTP are highly subsidized and the participants only have to pay the registration fee while getting enrolled. Students who applied and were shortlisted are asked to submit the registration fee. The fee varies from center to center and ranges between 1000-3000 PKR for the whole batch.
What Is The NFTP Course Duration?
Whether you enroll in Content Marketing, Graphic Design, or Tech domain, the course duration is 3 months.
Does NFTP Offer Online Classes?
While some of the partner centers allow students to attend the sessions online, the majority of the sessions are held on campus. In 2023, all the sessions are to be held physically.
Will I Get A Certificate At The End?
Upon successful completion which includes maintaining a healthy (60-70% attendance), having an active freelancer profile on Upwork, Fiverr, or any other freelancing platform, and attempting the final exam you will be eligible for the certificate.
Ending Note:
Summing up, through the medium of our blog, we have tried our level best to present all the latest information regarding this vigorous training program in one place. Aspiring writers, Graphic designers, Engineers, Project Managers, Counselors, Teachers, Math and Science Professionals, Arts Specialists, etc, honestly, individuals from almost all walks of life, who meet the eligibility criteria and have a skill that needs better direction to be presented to clients, should join NFTP. So, what are you waiting for? Come forward and be a part of NFTP's team to excel in your lives.
In case you have any other queries, feel free to visit NFTP's official website.