Have you been searching for the feasibility of taking Fashion Designing as your profession? Since your search has landed you on this post, we will make sure that you can get a clear idea of the scope of Fashion Designing in Pakistan. 
The scope of Fashion Designing in Pakistan is progressive. We will discuss the best institutes catering to this field, internship and job availabilities, career options, and entrepreneurship zone options.
Having done with 12th grade, many students nowadays are in the dilemma of deciding which field is in demand. As the notion goes, there is a liability for every decision we take. Like every other field, Fashion design has also its pros and cons. What matters is; if you are passionate enough to take the cons then you definitely deserve to enjoy its pros. 
There are a few things that might be mind-boggling to a newbie. Let us pick them one by one and clear the fog.
Why is Fashion design considered a good career?
It is by far one of the most financially rewarding and simultaneously satisfying careers in the world. 
For people with creative minds, the Fashion industry can be a good career option; as you can pursue this field at local and international levels.
A career that offers growth, diversity, and opportunities to build your own brand, identity, and image more than any other field and continues to progress. You have the freedom to land a prosperous job or can even start your own venture, working from home is also one of the chief perks of this hustling industry.
The advent of new technologies has introduced numerous specializations in Fashion Designing ranging from Fashion Technology, Fashion Journalism, Fashion Photography, Leather Designing, and Shoe Designing, to name a few.
Many people consider this profession as good for females only. However, it provides equally good opportunities for guys as well.
What Does a Fashion Designer Do?
Fashion designers are thinkers. They channel a well-thought, detailed process from scratch to the completion stage.
Performing thorough research of the rising trends of markets, fabrics, techniques, and designing inspirations.
Sum up all the relevant designs and arrive at a concept that is somehow unique or personalized.
After deriving a concept, a storyboard is made which comprises all the research elements that were gathered and screened previously to create a mood for the design or the product.
Next, a number of layouts are sketched out and later fine-tuned by either merging some elements or omitting some, Hence sculpting a novel design, ready to be made.
Then comes the selection of materials and accessories.
It is also one of the responsibilities of the designer to make a clear set of selections for cuts and stitches.
Checking and cross-examining before presenting to the mass market.
Last but not least, presenting the story, theme, and seasonal boards to the clients.
What qualifications do you need to be a fashion designer?
Figuratively the basic qualification is to pass out 12th grade ideally with an arts background, but any other discipline will do as well. 
In order to kick start your career in this field, you are required to clear an entrance test if you plan to get admission to a bachelor's degree program.
After that, you can either enroll in a diploma or a degree program in any of the following disciplines, namely; Fashion designing /Fashion technology, Textile designing/ Textile Technology/ Textile engineering. 
Then you can pick further classifications to attain specialized skills in Printing, weaving, knitting, cutting, stitching, and many more. 
There are short courses for the same as well that are easily accessible nationwide.
What are the Pros and Cons of pursuing a career in Fashion Designing?
| Pros of a Career in Fashion Designing | Cons of a Career in Fashion Designing |
| --- | --- |
| Creativity surrounds you. | Long working hours are required for adhering to deadlines. |
| If you happen to be a Fashion fiesta, this might be the right stop for you. | The jobs can be very demanding and criticism can be harsh. |
| Working in the fashion industry can be very glamorous. | Since the industry is constantly expanding and a lot of pressures are induced. |
| The industry is filled with hard-working and tenacious people. | Due to high competition, often work-life balance is compromised.  |
| You get a lot of gifts and freebies in the fashion industry. | With fame, your personal space is no longer your own domain. You become a public figure. |
What are the career Opportunities in Fashion Designing?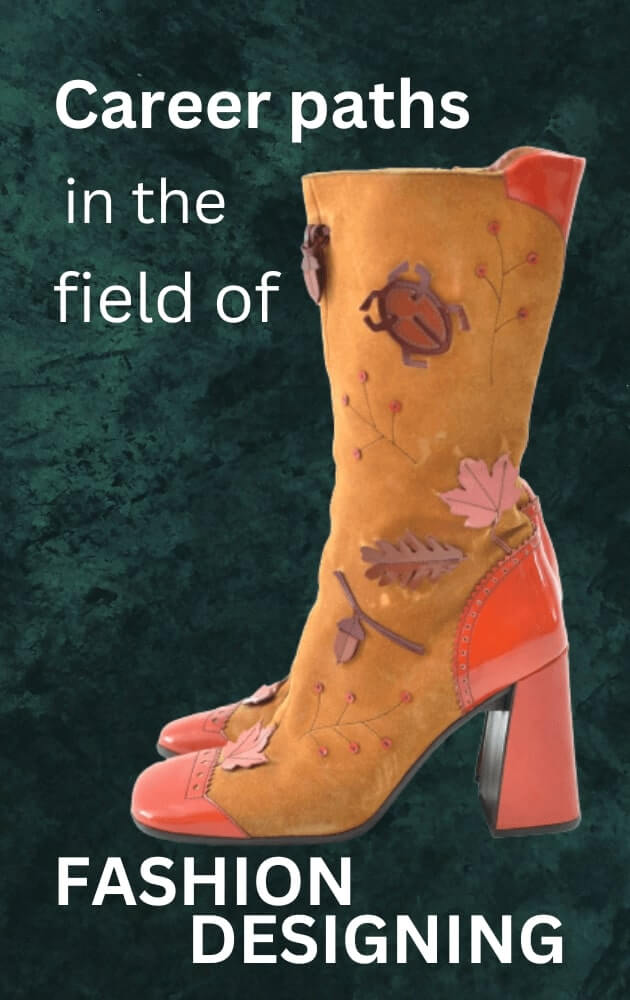 There is a wide array of career opportunities that one can get hold of just by being well-informed about the recent trends in the industry. You can get hired by a company as a textile or fashion designer. Secondly, you can become a fashion stylist, a retail manager, a personal assistant, or personal shopper, retail buyer. You can even become a fashion journalist and incorporate your knowledge in enticing your audience. You can even gear up a lot of attention by teaching the same and helping others as well as yourself.
What is the average salary range of a Fashion Designer in Pakistan?
A newbie with a 4-year university education and 3-6 months of firsthand industry-related experience can attain a total remuneration package starting from 25K -35K inclusive of all the overtime, bonuses, etc. Fashion Designer having a mid-career level of 5-9 years of experience has the potential to earn an average total compensation of PKR 100,000-150000.