Formerly known as the Karachi American Society School, some people may also know it by the name "International School of Karachi," it is now gaining popularity with the tag of KAS. This school is considered one of the most élite schools in Karachi, with an unshakable reputation dating back to 1952 when it was established.
KAS Facilities highlights and Admission's guide:
KAS has gained fame owing to its brilliant faculty, considered the city's best educationists, and the high-end faculties it provides to its students. The school has gained so much regard that they have devised its system into two semesters to accommodate the stream of incumbents willing to enrol in the school.
The first semester stretches from August to December, while the second starts in January and continues till May. The school has very tough competition with respect to admission, thus making it a very selective institution; due to space limitations. Hence expecting students are advised to apply for admission prior to their arrival in Karachi.
The Karachi American School functions as an independent body; this coeducational day school extends its educational programs from nursery through grade 12 for students coming from all nationalities. KAS states its mission is to ensure that pupils from across the globe should be prepared for International institutions of higher learning and become responsible global citizens by implanting an American-based Curriculum to ensure that a diverse student body is equipped.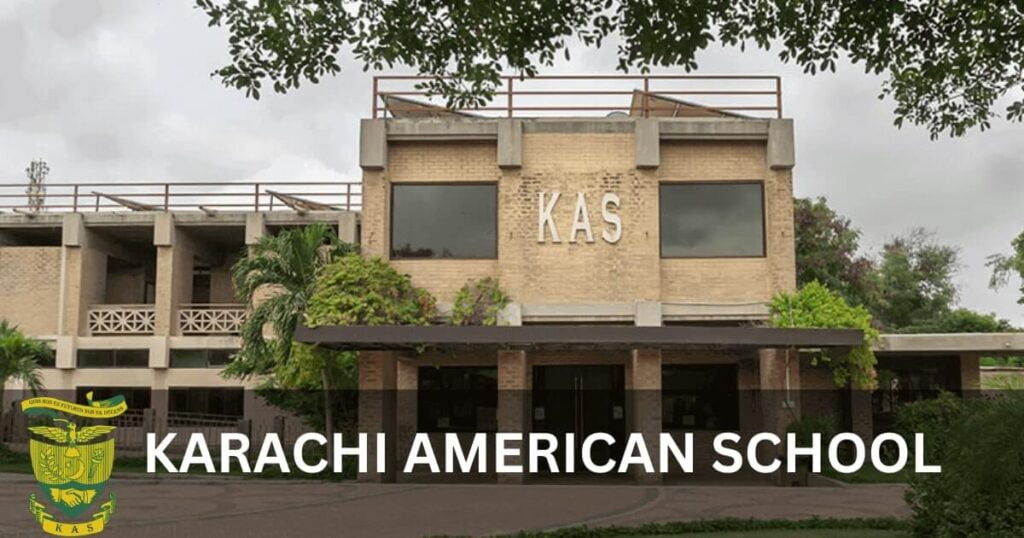 All about KAS infrastructure-A High-Quality Regard For Every Walk Of Life:
The school has a modern infrastructure, highly equipped laboratories, and sports curricula. There is a huge gymnasium, libraries, art galleries, and State-of-the-art labs for science and computers. It also organizes various creative and recreational activities to help students grow in every aspect of life. Apart from the above mentioned, KAS has an extravagant food court, swimming pool and last but not least, the health care check conducted regularly is the need of the hour.
KAS Contact and Fee Structure at a glance:
Here is a complete list of all the factors that parents may put into consideration:
| Karachi American School | https://www.kas.edu.pk |
| --- | --- |
| Established in | 1952 |
| Address | KDA Scheme # 1, Amir hydro Road, Karachi - 75350, Pakistan |
| Phone | (021) 34539096-9 (4 lines ) Ext. 217 |
| E-mail address | admissions@kas.edu.pk |
| Board Affiliation  | CIE – Cambridge International Examinations  |
| Programs | Elementary School, Middle School, High School (A variety of subjects are included) |
| Registration Fee (one time) | US$11000 (PKR 2864425.30) |
| Grade K3 annual tuition fee | US$5112 (PKR 1331164.8) |
| Grade K4 annual tuition fee | US$10131 (PKR 2638112.4) |
| Grade K5 to Grade 5 annual tuition fee | US$14921 (PKR 3885428.4) |
| Grade 6-8 annual tuition fee | US$14941 (PKR 3890636.4) |
| Grade 9-11 annual tuition fee | US$14971 (PKR 3898448.4) |
| Grade 12 annual tuition fee | US$15321 (PKR 3989588.4) |
Please note that Karachi American School follows fee structure in US dollars. The converted amount in Pakistani Rupees is shown using the current dollar rate (1 US $= PKR 260.4) for your ease. The foreign students are asked to pay their tuition fee in dollars via wire transfer whereas Pakistani students are eased to pay the equivalent amount in Pakistani Rupees.
Famous Alumni:
Many well-known celebrities are associated with KAS, a few of them are mentioned below,
Yasin Anwar – A Pak-American banker, who was known for his services over a period of 33 years as the governor of International banking.
Fatima Bhutto – A well-known columnist and author with a strong political background.
Fauzia Kasuri – An active Pakistani politician known for her active participation.
Mir Ibrahim Rahman – A popular media proprietor.
Tina Sani – A famous Pakistani singer for classical music and Urdu ghazals.
And the list goes on.
Conclusion:
Henceforth, for those who want to make a reveling future as a diplomat or Beurocrat, KAS is a very reasonable choice. Since this school has the mission of preparing a student body that is coached in a manner that they are better able to serve a role best fitting the role of a bureaucrat or a diplomat.