Introduction:
Dawood Public School was established by Mr. Ahmed Dawood in 1983 with the vision to inseminate education in the women of Pakistan. Enable them to be self-aware, have individuality, and have in-depth, knowledge-based, critical thinking strengths. Thus the core objective is to enable the students with all the practical tools in any aspect of life which is vital for their survival and autonomy. Hence each student at DPS is encouraged to walk their own paths, explore and cultivate their skills and aptitudes compulsory to empower them in becoming socially responsible citizens, and proactive members of their communities at large.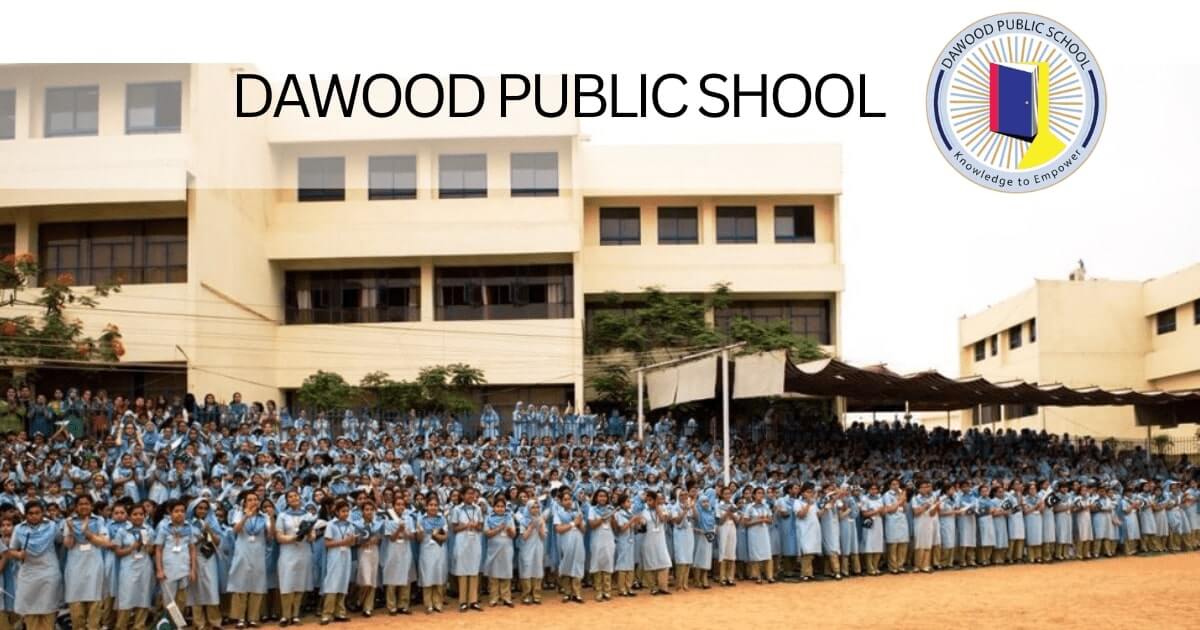 DPS Key Features:
Apart from the purpose-built spacious with ample supply of fresh air surrounding the campus with its state-of-the-art facilities plus an unmatching faculty. There are numerous extracurricular activities that DPS is known for. Here are a few to start with: A clinic for basic medical aid and conducting health workshops, and Student counseling to guide them at levels. A well-stocked library regularly updated, Internet/Computer labs, Play Area, and Regular extra-curricular activities, including sports, debates, cooking classes, trips, etc. All of these factors sum up to inspire learning experience. They have Daycare Centre for teachers as well.
DPS On Daily Basis:
The core structure of the curriculum is created on a philosophy that a child's attention needs to be retained in order to make them focus on something. That is why the whole duration that a child spends in school; which is from 7:00 am to 2:30 pm is carefully divided into six periods. Each portion spans 45 minutes with a 10-minute break in the middle of each period. owing to their notion if the lessons are kept short, frequent children's learning experiences can be enlightened. Small kids tend to have shorter attention spans which need to be grasped before they can let the information in. This innovation also provides an incentive to the pupils to stay focussed so that they could enjoy their break time for a good stretch.
Further, DPS has innovated a practice to make still better use of the time allotted. At DPS, they divide their daytime into five parts instead of six. Each day consists of a session, which is further divided into four or five lessons. Now instead of having a single recess time, DPS allows taking four breaks in a day. Two in the morning and two during the afternoon sessions. So, young ones can be well-fueled and stay active all day without going lethargic or grumpy.
The Course Of Study at DPS:
A student may choose to enroll in either program or two programs: Grades K through 3 are called Pre-Nursery. Grades 4 through 7 are called Nursery. Grades 8 through 10 are called Junior Elementary. Grades 11 and 12 are called High Schools and Grades 13 and 14 are Senior High Schools.
Pre-Nursery Age: 2¼ years to 2¾ years
Nursery Age: 3 years to 3½ years
Dawood Public School At A Glance:
Here are the key pointers at a glance for your ready reference.
| | |
| --- | --- |
| Established in | 1983 |
| Official Youtube Channel | https://www.youtube.com/user/DawoodPublicSchool1/videos |
| Postal Address | Plot # ST-1, DCHS, Bahadurabad CHS, Karachi, Karachi city, Sindh. |
| Tel | +92 21 38403588, (021) 3493 4942, 3413 0671, 3413 0670 and 3493 3254 |
| Email | [email protected] |
| Medium | English Medium School |
| Affiliated Boards | BSEK (SSC) and CIE (O/A levels) |
| Fee Structure | Admission Fee: PKR. 51370/ plus monthly PKR. 10000/month (approx) |
| School | Private |
| Model of education | All Girls' School |
| Programs | (i)Pre-Primary (ii) Primary (iii) Secondary (iv) A Levels |
| Facilities | Clubs & societies, Science & computer labs, library, medical, sport & transport. |
End Note:
Since 2010, Dawood Public's A-Level College for girls in Karachi continues to be one of the best, offering a widely sought-after faculty, a variety of rarely offered-subject combinations, and disciplines like English Literature, Psychology, Sociology, Environmental Management, English Language, Urdu, and World history. Dawood Public School's A-Level program boasts a strong academic record with many students achieving Outstanding Cambridge Learner Awards, and World and Regional distinctions. Rich extracurricular activities offered at Dawood such as strong student-run clubs and councils, international trips, inter-school events, MUNs, symposiums, and competitions all focus on our students' holistic development.