Pakistan was privileged to educate the masses by establishing Open universities and distance learning. This concept became practical through the prestigious university of Pakistan, Allama Iqbal Open University, named after our great poet Allama Iqbal.
Allama Iqbal Open University came into existence in May 1974. The idea of distance learning was initiated initially in the UK in the late 60s. It was the brainchild of British Prime Minister Mr. Harold Wilson. He believed everyone should get equal opportunity to upgrade their skills and knowledge anytime. Suppose someone has yet to catch his education due to early employment or other responsibilities making it difficult to catch the classes and study schedule. In that case, Open University should facilitate such people to complete their degrees with their ease. The ideology of Distance learning is now remarkably getting assistance from the boom of information technology, further easing the spread of knowledge at people's doorsteps.
Hence, the first Open University was established in the UK in 1969, which served as a breakthrough in spreading knowledge. And Pakistan got laurels for establishing the second Open University in the world and the first in Asia through the establishment of Allama Iqbal Open University.
Accomplishments of Allama Iqbal Open University:
Allama Iqbal Open University is one of those pioneer institutes of Pakistan that helped tremendously increase the literacy rate across the country. It majorly facilitated women of Pakistan to complete their education, who are predominantly housebound due to poverty and traditions. The idea of distance learning made education available, even in the remotest areas of Pakistan, and helped people to upgrade their knowledge from the comfort of their homes.
The recent recession has made it quite challenging to afford educational expenses. Similarly, it is nearly impossible for families living below the poverty line to bear the heavy fees of Professional and Technical Education. On the other hand, Allama Iqbal Open University is leaving no stone unturned in educating the masses by providing educational facilities at the minimum cost possible and creating student assistance funds. Allama Iqbal Open University facilitates students to complete their education from Matriculation to Master and Ph.D. levels, including Certified courses, B.Ed, and BS programs.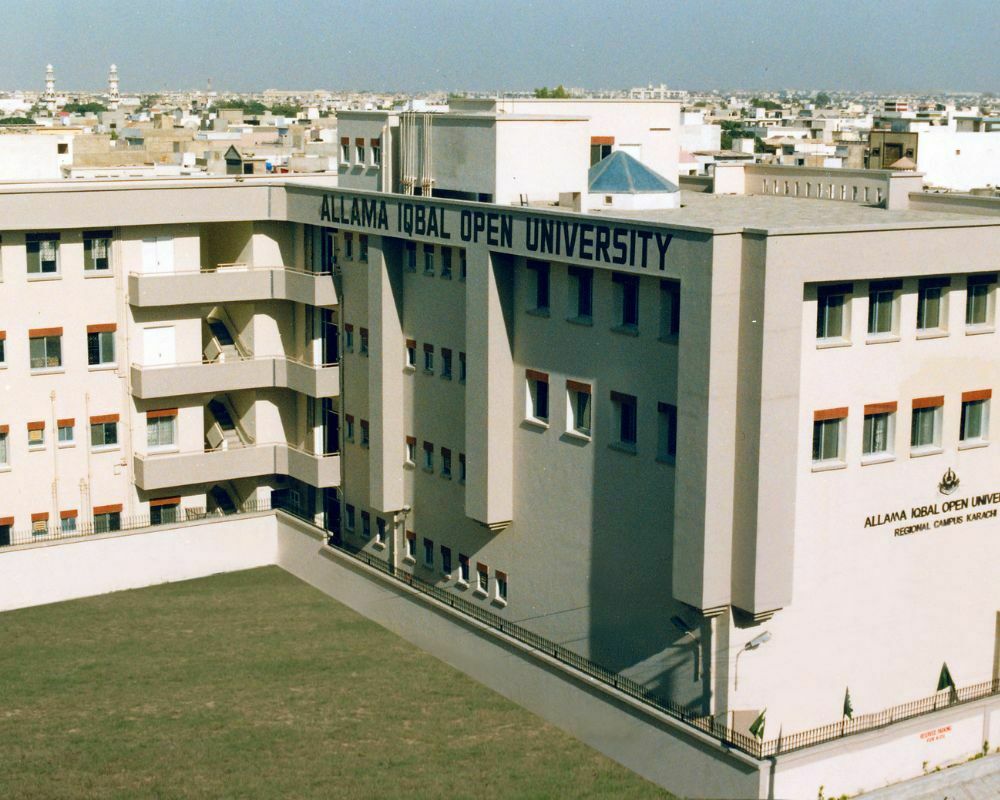 All about Allama Iqbal Open University Admissions:
The Allama Iqbal Open University admissions process is based on a semester structure. Admissions occur twice a year during the two semesters of spring (February–March) and autumn (September–November) (July-August). During these semesters, students can apply for admission to general education and practical courses.
Once a year, admissions are announced for the Ph.D., M.Phil., M.Sc., M.A., and teacher education programs. So, students interested in applying for admission to the programs stated above should be on guard when these faculties accept applications. In addition to publishing advertisements for admission announcements in print media, its website's news and events section also provides admission information.
Allama Iqbal Open University Fee Structure 2023:
The prospectus of the targeted department is available on the university's website, along with a complete breakdown of fees. The table below gives a brief overview of the fee structures for the various departments.
First Semester Fee for Programs offered in Autumn Semester:
| BS (Face to Face Program) | Fee (Rs.) |
| --- | --- |
| BS Botany | 41,000 |
| BS Chemistry | 40,000 |
| BS Computer Science | 39,000 |
| BS Mathematics | 36,750 |
| BS Environmental Science | 40,5000 |
| BS Physics | 40,000 |
| BS Statistics | 36,750 |
BS/BBA Open Distance Learning Programs:
| BS/BBA ODL Programs | Fee (Rs.) |
| --- | --- |
| BS Accounting and Finance | 14,600 |
| BS Pakistan Studies | 14,600 |
| BS Arabic | 14,600 |
| BS Urdu | 14,600 |
| BS English | 14,600 |
| BS Gender and Women Studies | 14,600 |
| BS Library and Information Science | 12,500 |
| BS Islamic Studies General | 14,600 |
| BS Islamic Studies Quran and Tafseer | 14,600 |
| BS Islamic Studies and Shariah | 14,600 |
| BS Islamic Studies Hadith and Hadith Sciences | 14,600 |
| BS Islamic Studies Seerat Studies | 14,600 |
| BS Islamic Studies Dar e Nizami | 14,600 |
| BS Islamic Studies Interfaith Studies | 14,600 |
| Business Administration Program (BBA) | 12,500 |
Allama Iqbal Open University Regional Campuses' and Students' Statistics:
Allama Iqbal Open University has the honor of having 54 regional campuses throughout the country. Its regional campuses, which are situated in the cities of Multan, Peshawar, Karachi, Quetta, Hyderabad, Kalat, Dera Murad Jamali, Larkana, Abbottabad, and Mardan, are helping students to update their skill sets and qualifications meaningfully.
The following statistics alone say eloquently about how Allama Iqbal Open University has proved to be successful in its aim to educate the general public and bring about positive change in the nation:
| | |
| --- | --- |
| Regional Offices | 54 |
| Faculties | 4 |
| Current Enrolment | 1,027,000 |
| Alumni | 4,487,044 |
Concluding Remarks:
In conclusion, the Pakistani government has given the masses a golden chance through the Allama Iqbal Open University, enabling them to finish their education anytime. This university has done away with the burden of age restrictions and other stringent requirements that many other universities have. Its presence in practically every Pakistani city proves that our government assists students in expanding their knowledge as conveniently as possible. So, we must enhance our skill sets and succeed in our careers. For further details, visit the AIOU official website and stay updated with the latest news.
Frequently Asked Questions (FAQs):
1. What is the ranking of Allama Iqbal Open University?
As per Webometrics, Allama Iqbal Open University ranks at 22nd position in Pakistan.
2. Is the Allama Iqbal Open University degree internationally recognized?
Yes AIOU degree is internationally recognized. Also, as per Dawn news, Saudia Arabia agreed to review the recognition of Open University and would consider its graduates for jobs in Saudia Arabia.
3. What are the criteria for admission in Allama Iqbal Open University?
There is no age restriction to take admission to Allama Iqbal Open University. A student must have cleared the previous class to be admitted to the following class. To seek admission, a student must purchase the desired department prospectus from the regional office, fill out the admission form and pay the fee at the nearest bank. In the end, the student must receive the receipt of the paid form from the bank to complete the admission procedure.